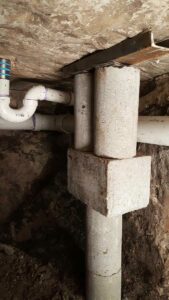 Foundation Repair
Ensure That Your Houston Home is Secure on a Sturdy, Reliable Foundation with Expert Foundation Repair Near Houston.
Foundation problems can be caused by a variety of factors. The constant changes of soil around your home are inevitable and may result in the need for foundation repair, particularly if the weather changes around you in unexpected ways that aggravate the soil changes. Collectively, these changes can result in inadequate drainage, especially if you have under-slab plumbing.
Since your foundation is often unseen, foundation repair needs may be difficult to recognize. Luckily, signs that you need foundation repair can be easily found. Look for cracks in exposed grade beams of your house and any doors or windows that don't open or close properly.
Try to spot any gaps around your garage door or between the pavement and your garage door. Finally, look for diagonal wall cracks around the corners of your doors and windows. Should you find any of these signs, call the experts at Titan Structural Repairs, LLC immediately. We are experts in:
Foundation repair services
Structural repairs
Residential foundation repair
Commercial foundation repair
Exposed grade beams
Shaky or cracked foundation
Concrete foundation repairs
Infrastructure of foundations
Under-slab structure plumbing
Concrete repairs
For specialized foundation repair, call Titan Structural Repairs, LLC today. Our team of professionals is ready to provide all the foundation repair services that you need to keep your home in Houston, TX, and the surrounding 100-mile radius safe and lasting for years to come.
Find Out What We Can Do for You: